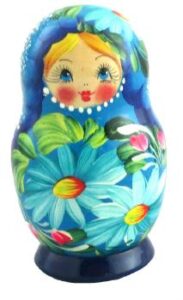 Matryoshka and Russian Dolls Small size
A Wide Variety of Russian Traditional Nesting Dolls
Matryoshka dolls, also called Russian settling dolls or babushka dolls, alludes to many wooden dolls, mostly a set of 5 dolls of diminishing size set one inside the other. 
The work of art on each doll portrays a lady hung in a beautiful attire which is creative and elaborate. These Russsian dolls are available in different colors and patterns. 
The assembling of Russian doll sets is done without any unmistakable cycle. These dolls, made acclaimed in the late nineteenth century, are as yet quite possibly the most exemplary of all Russian workmanship pieces. However, they were intended to be toys. The creation procedure of these dolls are the same today as they were years prior. Every one of the dolls is crafted with a similar square of wood.
The Russian Treasure is the online store where you can get great quality and astounding Matryoshka Russian Nesting Dolls at a fair price.