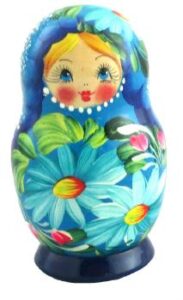 Matryoshka and Russian Dolls Small size
Matryoshka dolls, also called Russian settling dolls or babushka dolls, alludes to many wooden dolls, mostly a set of 5 dolls of diminishing size set one inside the other. The work of art on each doll portrays a lady hung in a beautiful attire that reflects creativity and imagination. These Russian dolls are available in different colors and patterns. 
The assembling of the best Russian doll sets is done without any unmistakable cycle. These dolls, made acclaimed in the late nineteenth century, are as yet quite possibly the most exemplary of all Russian workmanship pieces. However, they were intended to be toys. The creation procedure of these dolls is the same today as they were years prior. Every one of the dolls is crafted with a similar square of wood.    
The best Russian matryoshka dolls are a series of nested, wooden dolls of decreasing size. All people have a love for small, doll-like things. There's something about their size that allows people to hold them and play with them and possess them without any fear of breaking them if they get dropped. This is one reason why Russian dolls are so popular. They're miniature pieces of art that you can put away when not in use, but they'll always be there waiting for someone to pick them up again. Many people enjoy owning and playing with a matryoshka and Russian dolls because they allow for creativity and imagination to come through.  
The Russian Treasure is the online store where you can get great quality and astounding Matryoshka Russian Nesting Dolls at a fair price. Each doll inside of the matryoshka is smaller than the last.