1/ Payment via Stripe: 
Stripe is a secure payment solution that allows you to pay by credit card, Apple Pay, Google Pay etc. Data entry and transmission are secured by the SSL (Secure Socket Layer) protocol. Stripe has been audited by a PCI-certified auditor and is certified PCI Service Provider Level 1. This is the most stringent level of certification available in the payments industry.
2/ Payment via Paypal :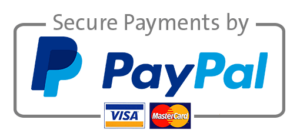 With PayPal your financial information is never communicated to our shop.
PayPal encrypts and protects your card number once and for all. Pay online like any other online banking transaction.
You do not need to sign up for PayPal.
Account to be credited:  [email protected]
3/ Payment by bank transfer:
Your order is reserved for 15 days. Beyond this deadline, without receiving your payment, it will be canceled. The order will be processed upon receipt of your payment.