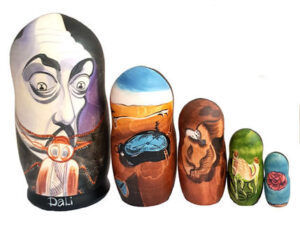 Original Matryoshka Nesting dolls Big size
The nesting dolls are friendly faces with bright colors. They are the traditional dolls of Russia. It is a splendid example of craftsmanship. If you have visited Russia, you have most likely seen matryoshka. They are conspicuous by their cylindrical and hollow shape with basic lines. Each of the dolls comes from the same block of wood to offer uniformity in the texture. A lady's face with blushing cheeks and a dress painted with refined subtleties portray the conventional matryoshka. 
Made toward the finish of the nineteenth century, the matryoshkas have proceeded to advance, and these progressive developments have been brought into the world of the first Russian dolls. This sort of settling dolls enjoys the highlights of the exemplary matryoshka, with a simple shape and a progression of more modest dolls that fit into one another. 
The Russian craftsmen have unmistakably made settled dolls an image and trinket of Russia. They have proved that no one can do the woodwork and turn it in a better way than they do. By using creativity, they fill life in these Russian matryoshkas. They get inspiration from the clothes, historic dyes, embroidery, colors, and peasant culture to such great work. The attire of the dolls are traditional motherly figures incorporated into an apron, a shaded scarf, a weaved shirt, and a sarafan which is the national dress of Russia. The matryoshka painters sometimes use ribbon, blossoms, foods grown from the ground, conventional weaving designs, and other such things to print the themes on these adorable dolls. 
The original big nesting dolls are crafted on the basis of the theme too. The big Russian dolls can be designed with fairy tales, Christmas celebrations, the birth of Jesus, and other things. It really seems astonishing to watch such dolls. You can choose from the large variety of such dolls from The Russian Treasures website.