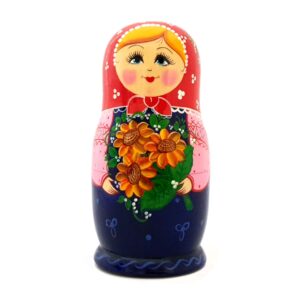 Russian Dolls Toys
The precious time of the toddler is when they play with brightly coloured toys, and if they get some interesting Russian nesting toys for play, it will be somewhat icing on the cake.
Russian dolls attract kids towards themself. They love to play with them and make them their dearest companions. The best present for a youngster is a doll. They appreciate sprucing up their toy in appealing ensembles and adornments.
Russian dolls come in sets, and each set of dolls is designed beautifully and perfectly to make it a perfect gift set for your kids. In addition, these dolls enhance the cognitive development of the kids.
The Russian dolls hide inside each other, and that justifies their name. Kids will love the faces of these dolls. And most importantly, the surprise, fitting of dolls inside one another.
You can make a charming and wonderful addition in your kid's toys section with Russian dolls toys. These dolls offer the understandability of different sizes and colors. They will learn many things while arranging the one inside another. The excitement of kids will be at the next level while playing with them.
All our toys are handcrafted, hygienic, and made with eco-friendly material. You will experience rich artifacts with our products. You can also use these dolls for the observation and memorization skills of the kids. The Russian dolls toys are lightweight and safe to keep your child entertained and occupied. They are easy to grip.
The bright color of Matryoshka catches everyone's attention. These dolls hold the Russian patriotic feeling, and you can easily explore them with The Russian Treasures. You can choose from the versatile option of Russian dolls toys from our store and get a wonderful option for your kid's indulgence.
We hope that you like them the way we do.