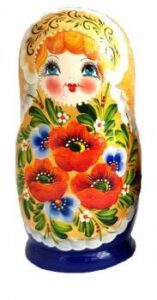 Russian Nesting Dolls and Matryoshka big size
Buy Big Size Matryoshkas on Russian Treasures
Are you looking for matryoshka? Our website is the address for you. The matryoshkas consisted of several pieces of decreasing size, nestable one inside other. They decorate the interior of your house with style. They are original objects by their forms.
Beyond their decorative aspect, these items is an emblem for Russia. In general, they are made with quality woods. They follow a rigorous process, consistent with the traditional artisanal production.
These large creations are, for example, available on our webstore. These models in particular are available with various designs to choose from. We have nesting dolls with flowers, fruits, birds … The proposed models are unique in their originality.
If you are ready for the purchase we welcome you on our website. We sell authentic items, made by russian craftsmen.