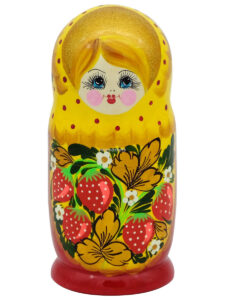 Russian Stacking Dolls
You will experience the best quality and handmade Russian stacking dolls with The Russian Treasure store. We have a wide variety of wooden dolls, which are considered the symbol of fertility. There are several words used for this doll, such as babushka dolls, nesting dolls, Russian tea dolls, Russian dolls, or Russian Matryoshka dolls. Best Russian stacking dolls represent the common traditional Russian culture. The largest doll in the set represents a strong female, the central figure in the Russian family. The shape of the Russian stacking doll is wide and elongated, and it appears like a woman who has given birth to many children. 
Russian stacking dolls are a set of hollow wooden figures painted with bright colors. The sizes of each doll vary, and they are designed so that they can get fitted inside one another. Generally, they are five to nine in total, which nest one inside the other.   
These dolls are often created with some theme. Every Russian stacking doll is unique and handcrafted with the finest linden wood. The level of care that is given to each nesting doll results in no resemblance between the two pieces. You can use these dolls to develop motor skills in kids. They will get to know about the color, design, size, stacking, and other things while playing with stacking dolls. 
They are considered a great addition to home decoration. The bright, rich color, design, and cultural character of Russian stacking dolls work best in catching someone's attention. You can use them as a gift option for Christmas, birthday, or any other occasion.   
The best nesting dolls are those that have a really good design. The design should be both intricate and detailed. It should also have a harmonious color scheme. At The Russian Treasure website, you will get a wide variety of the best Russian stacking dolls that will add beauty to your home. After seeing the collection of dolls in our store, you will simply say wow. So come and enjoy the traditional feeling of Russia with The Russian Treasure.