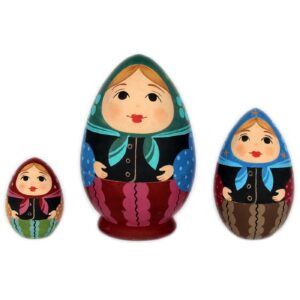 Russian Egg Dolls
The Russian egg dolls are the traditional symbol of Russia. They are a sight to behold. It made its appearance in the late 19th century. Every doll set consists of several dolls, and the smaller one is put inside the larger one. It acts as a surprise for many to reveal the smaller ones from the larger ones. They are crafted in the traditional form. They are durable and eye-catching objects that can be used as home decorative objects. The structure of these dolls is in the shape of an egg. And thus, the name has been formed. The neat and long-lasting finishing of these dolls gets applauded by everyone.
By using the best quality material, the wooden egg dolls are crafted. Russian nesting dolls are ordinarily painted to look like ladies in conventional Russian apparel. Instead, you will get the Russian egg dolls portraying Russian fantasies, world pioneers, animation characters, mainstream society symbols, sports legends, or other creatures. Also, artists craft these Russian dolls with specific topics like occasions or religion.
Russian nesting dolls are normally splendidly created; however, some can be plain, enhanced with a wood-consuming method, or decorated with gold paint. They are painted with complete perfection so that you can experience the best of these traditional dolls. Also, the weight of such dolls is not so heavy. You can easily carry them. You can use them as a birthday present, Christmas gift or a surprise gift for any event. The art quality of these dolls is eye-catching and awesome.
At The Russian Treasures website, you will experience the top quality Russian egg dolls. You will get a wide variety of themed dolls with The Russian Treasures. We manually check each of the products before delivering them to our customers. Russian egg dolls are super cute and fun tools that will engage your kids. So what are you waiting for? Come and grab the best deal.