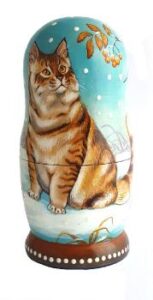 Animal Russian Nesting Dolls and Matryoshka
On Therussiantreasures.com, we sell very original Russian dolls. For example, you can buy an animal matryoshka: it will please your children! They will have fun with your playful and colorful collection.
Our Russian animal dolls
We have selected models that represent domestic animals, but also animals that live in the forest. So you can buy a Russian doll cat, owl, cow, bear, horse, penguin or frog on our website. The models that we present you are all more colorful than the others: they will please to the small ones, but also to the big ones!
Much more than a decorative object, a fun toy for the little ones
Your children will have a lot of fun with your matryoshkas in the shape of animals. Of course, we recommend that you watch them while playing with them to prevent them from being damaged. They can imagine beautiful stories or learn to count with these animals in wood! All references you can buy on our online store are handmade by Russian artists: you will be able to start a beautiful collection thanks to therussiantreasures.com!