The largest nesting doll in the world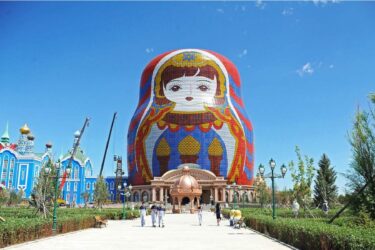 Despite the fact that Russia is considered the birthplace of the matryoshka, the largest matryoshka is located in the Chinese city of Manchuria. A real center for traditional Russian art was built there, which also includes the city square "Matryoshka".
This park was seen by all tourists coming to Manchuria. In the center of the park, there is a "main" nesting doll, which is over 30m high. It depicts Chinese, Mongolian and Russian girls symbolizing their countries. This nesting doll is listed in the Guinness Book of Records as the world's largest nesting doll. Matryoshka symbolizes Sino-Mongolian-Russian friendship. After all, the Chinese city of Manchuria is located at the intersection of Russia and Mongolia.
The area inside the nesting dolls is 3200 sq. m. There is a restaurant of Russian cuisine and a showroom. Around the "main nesting dolls" were built 8 more similar "nesting dolls" buildings, as well as 200 small nesting dolls depicting 200 famous figures of the world.
It is worthy of respect that the Chinese made the Russian nesting doll a symbol of the city. Although, if you delve into the history of the creation of nesting dolls, you can learn interesting things. It turns out that the figurine of the sage Fukuruma, brought from Japan, served as the prototype of Russian beauty. True, some legends claim that this sage was cut down by a Russian monk who lived on one of the islands of Honshu, but there is no confirmation of this.
Russian turner Vasily Zvezdochkin carved a figurine of a chubby and good-natured beauty, and artist Sergei Malyutin "dressed up" the beauty in a sundress and kokoshnik. The first nesting doll was holding a rooster. So the Russian nesting doll began to conquer the world.
In 2006, the city square of Manchuria – "Matryoshka" was opened to tourists. What kind of nesting dolls are not here. And Newton, and Einstein, and Emelya with a pike in his hand. There are also models of Faberge eggs on the square. But the most interesting thing is that the entrance to the park is free.
The park is always full of tourists and just locals with their families. The kids are just delighted with the fairy-tale figures, they play with pleasure and take pictures next to them. And in the evening, a light and music fountain functions in the park and old Soviet melodies are played, the Chinese listen to them with pleasure.