Russian silk shawls, wonders of Russian craftsmanship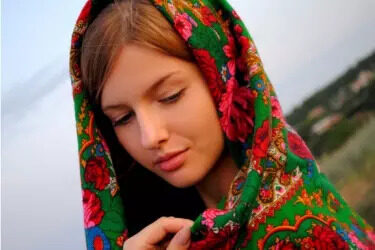 The shawls are part of these traditional accessories that compliment the charm of Russian women for generations. At the same time warm, elegant and unique thanks to its various reasons, the Russian shawl is a versatile element to absolutely have in her wardrobe. Its timeless beauty now attracts a huge number of women around the world. The shimmering colors of the Russian shawls form a subtle harmony that enhances all types of outfits with a refined touch. The two main materials used for the design of Russian shawls are wool and silk. The latter ensures a perfect balance between warmth, resistance and pleasant touch. Treasures of Russia takes you to discover these silk shawls throughout the history of their design and actual manufacture.
A history dating back to the 18th century
The birth of Russian silk shawls as we know them today is over two centuries old! It is indeed at the end of the 18th century, in 1795, that a small silk factory created by Ivan Labsine, is born. His small business, based in Pavlov Posad, is one of the dozens of textile factories that were developing at the time on the territory of the Moscow government. Silk shawls are originally made without special designs, inspired by the oriental cashmere shawls that were then in vogue.

But around 1850, the descendants of Labsine will bring an innovation that will definitely mark the history of Russian craftsmanship: the addition of printed patterns to silk shawls. As a result, more and more sophisticated ornaments adorn the shawls of Pavlov Posad, in particular with elaborate floral motifs, which delight women with their delicate colors. This same factory has survived the historic changes that have upset Russia, and is still in operation, with its red brick facades.
High quality craftsmanship
The unique beauty of Pavlov Posad silk shawls comes from artist-designed patterns, with fine patterns and harmonious colors that create a relief effect. The careful manufacture of these masterpieces of Russian craftsmanship is also at the heart of the continued success of silk shawls. Originally, they were entirely made by hand, which could take up to 18 months to make a single shawl. During the 19th century, hand-printing techniques, by stamping, were adopted to speed up the production process.
Today, the manufacture of Pavlov Posad shawls has been modernized, and printing techniques are automated, but the concern for quality has remained central to their creation. Each shawl pattern is designed by a designer and then implemented by a colorist. There are traditional themes in the setting of shawls, especially floral themes. But we can also find today more modern models, fruits of the imagination of contemporary creators. In any case, the shawls are carefully made and made in accordance with traditional traditions. That's why these shawls are durable and of high quality, and are often worn for many, many years.