From Russia with love: 10 gifts to offer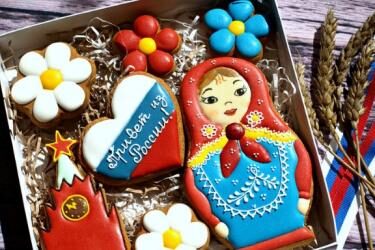 Tourists have a habit in Russia of choosing as souvenirs, the most banal things: matryoshka, fur and caviar. We propose to forget the stereotypes and expand the list by offering a selection that will delight your loved ones!

As part of the 2018 World Cup, Russian cities have been inundated with tourists. They make acquaintances, make international contacts, live unforgettable moments, but how can they return home with gifts that do not reflect the moments of pleasure experienced? We offer a list of pleasant surprises that certainly provoke a storm of emotions among foreign tourists.
Gingerbread, condensed milk, sweets from Russian factories

Russian sweets are atypical and very different from foreign sweets. As a result, many people would like to try an exotic Russian snack. The perfect gift for all ages.
Honey

This unique product is suitable for connoisseurs and offers special occasions. Honey is produced in many countries, but in Russia it is one of the best in the world. Bashkortos honey is one of the most sought after by connoisseurs and experts, it will amaze your taste buds.
The hat, but not the earcovers

A gift can be useful if you present your sport cap to your foreign friend. Of course, it's the perfect moment in this World Cup season! Another fun alternative to earcovers is the budenovka. My friend, an American, bought ten in Russia and was very proud when he offered them to his compatriots. And I took note.
Set for the bath

The "bania" is a Russian steam bath. This kit will be a perfect souvenir, it consists of an oven made of birch wood or oak, a ladle, a glove and why not add the traditional broom birch that relieves muscle and joint pain.
Soviet glasses holder

Faceted glasses associated with beautiful glass filigree holders are still essential objects, but it is not always easy to acquire in stores. They are particularly appreciated by foreign tourists who have traveled (or dreamed) in the mythical Trans-Siberian train.
Boots and mittens

You will find a great diversity in all stores for all ages. These accessories are worn by everyone on the streets, not just grandmothers. Especially in the summer, you can find many gift shops.
Gzhel, Khokhloma, dishes with Zhostovo painting, tagil trays, icons

A gift for an amateur. Usually aunts and foreign antiques or antique lovers are delighted with such beauty. All this splendor is sold in souvenir shops or in specialized branches of porcelain factories, as well as in the markets.
By the way ! If you want to surprise a connoisseur in antiquity, visit the flea market, because you will find authentic old household items such as a rolling pin, a washboard, a mortar, a casket. There are real rarities! And they are not always expensive. The Russian dolls, called Matryoshka are a must-have gift for all tourists. The beauty of wooden matryoshka dolls will delight your loved ones.
Russian books

This may not be the best gift, but it will still please. Foreigners like publications on painting and Russian culture, guides, books about Moscow, St. Petersburg, Siberia and albums with professional photos.
Books about the USSR are particularly interesting and popular with readers. By the way, it is relatively easy to find them abroad (as a gift to the Russians). My husband and I brought a huge German album from a local publishing house to unusual buildings on the former Soviet republics. It is a very requested work by the tourists. Seeing these beautiful buildings, I can understand them.
Shawls, shirts, kokoshniki and other attributes of folk costume

These gifts are more traditional. How to wear this type of products? Quite simply, going to a party, these items will be a great gift and a great holiday souvenir. The sublime Russian dresses amaze many tourists, just meet a woman, girl or young woman wearing a Russian garment for tourists to leave their cameras.
Articles made of stones such as amber, serpentine or malachite

It is possible to find many items made of stone, be it jewels or fabergé egg replicas. They will offer beautiful color contrasts, the natural stones Russians are famous for their beauty.