Everything You Need To Know About Nesting Dolls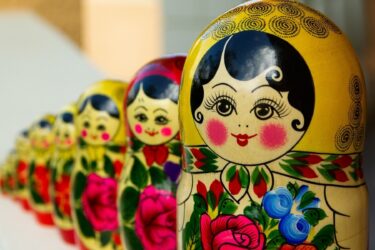 Without exception, both children and adults living in Russia know what a matryoshka looks like, which many perceive as a symbol of our country. However, not everyone is familiar with the history of the origin of this doll. In this article, you can familiarise yourself with the description of the matryoshka, as well as learn a lot not only about the history of its creation but also about its varieties. 
What is it?
Matryoshka is a folk toy of great importance for the Russian people. She looks like a painted wooden doll, or rather, a whole set of dolls: inside the largest matryoshka there are dolls similar to her but in a smaller size. As a rule, such a set contains at least three nesting dolls.
Each of the dolls has a flat bottom and is shaped like an egg, consisting of two parts that can be easily connected and disconnected.
The traditional version of the Russian nesting doll looks like a woman dressed in a sundress and a scarf. In general, the toy could be painted in different ways – for example, Khokhloma, Gorodets or Dymkovo painting. Everything depended on the preferences of its creator.
History of creation
How the first wooden doll, named matryoshka, appeared in Russia, is an interesting story and at the present time it is still not entirely clear. Many believe that this toy comes from Japan itself. According to this version, one of the Russian masters saw a Japanese figurine and decided to make a similar one in his own way.
However, it is impossible to say for sure that everything was exactly like that, because such figures are also found in Chinese and Indian cultures. Most are still inclined to the version that the matryoshka was created during the period when the master was inspired by Slavic culture.
With a toy maker, everything is much easier. He is Vasily Zvezdochkin, who lived in Podolsk and claimed that he had never seen any analogs of nesting dolls from Japan before. The first nesting doll was created in 1890, and Sergey Malyutin is considered the creator of its sketch.
This doll looked like a girl holding a black rooster in her hands. It did not differ much from the traditional version of the toy: inside it there were several more figures, the last of which was a swaddled baby. The toy eventually got its name from the name common at that time – Matryona.
Already in 1900, the doll went to the world exhibition in Paris and received a bronze award there. This was the impetus for the distribution of the toy, it began to be made in many places.