Choose your Russian souvenirs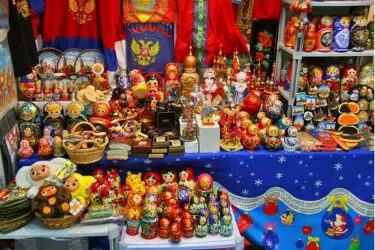 The world of Russian souvenirs is vast and varied: whether for children or for adults, there is something to find exceptional objects to use everyday, or gifts that will amaze family or friends. A large majority of Russian souvenirs come from the great tradition of Russian craftsmanship. Russian craftsmen have in fact perfected ancestral techniques for the manufacture of products ranging from kitchen utensils to religious icons, to toys for children, collectible figurines, jewelery and clothing. Here is a handy guide to help you choose your Russian souvenirs.
Some unforgettable memories
You probably know the matriochkas, these nesting dolls with benevolent faces? These decorative objects and toys have become one of the emblems of Russian craftsmanship. They remain one of the essential souvenirs to have at home or to offer someone who appreciates Russian culture. Very colorful, they come in many versions: from the most traditional to the most fantasy with themes such as animals or Christmas.
Other souvenirs not to be missed: Russian shawls. Always very fashionable, these scarves are mostly wool or silk, which makes them both warm and light. Their refined patterns and their shimmering colors make them a trendy accessory that will delight all women.
In terms of interior decoration and especially the kitchen, Russian souvenirs of first choice are those porcelain Lomonosov: teapots and cups but also sugar will come to give a very elegant touch to your afternoons with friends. To complete your service, do not miss the trays of Jostovo, with their typical floral paintings of Russia.
Always on the side of the decor, there is a memory that is sure to please: lacquered boxes. These are ideal for storing jewelry, placing baby's milk teeth, or keeping some small treasures in an elegant and aesthetic box.
The details that make the difference
When choosing Russian souvenirs, it is essential to know where they come from to ensure that they are handcrafted in the traditional spirit of production. Indeed, there are many copies nowadays manufactured in other countries like China, which are very far from the quality of the real Russian craft souvenirs. To make sure your memory is authentic, check the city of making the memory. For painted souvenirs such as matryoshkas or lacquered boxes, the name of the artist or author who painted the painting is also normally given.
On the other hand, it is important to check the material of manufacture. The matriochkas are traditionally made of wood, usually linden or birch. A matryoshka made of plastic or other synthetic material imitating wood has nothing to do with a real matryoshka. The same applies to lacquered boxes, which are handcrafted from papier mâché and not plastic.
Russian shawls and scarves are made of wool or silk, and this is particularly important for their qualities of lightness and warmth, as well as for the beauty of their patterns and colors. The imitations in synthetic materials (nylon, polyester, acrylic …) are therefore absolutely avoided.
Pay the right price for his Russian gifts
The price of a Russian souvenir is the amount of work needed to make a quality product. Artisans who model and hand-paint the memories need many hours of work for a unique and impeccable result. That does not mean that true Russian souvenirs are priceless! A traditional 3 piece base matryoshka can cost around 4 or 5 euros only; for more original models or made by more famous artists