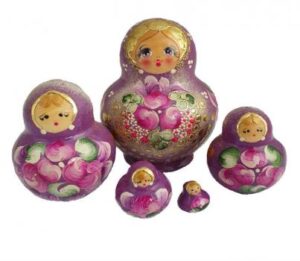 Original Russian Nesting Dolls Small Size
The warm smile and bright colour of the Matryoshka is a lovely thing to see. The first Russian nesting dolls showed up in the Paris World Exhibition of Industry and Commerce, which was held toward the finish of 1890. This Russian Matryoshka is significantly more than a wooden toy. These are adorable and eye-pleasing objects. You will find 4 to 6 dolls in a single set that are a wooden figure from top to base. You will find multiple dolls inside the Matryoshka, similar sort inside, which has another figure within it, etc. 
The most appealing piece of these dolls separated from nesting is each doll's shading and painting, which are very intricate and charming to see. With fine craftsmanship and delightful artwork, it is a great decorative piece for your room or an awesome present for your children. A Russian nesting doll alludes to a bunch of wooden dolls of diminishing size set one inside the other. The quality and phenomenal handwork on these wooden toys is remarkable. Either the size of the doll is large or small, you will find the best print and work on every doll. 
The crafting process of these dolls is very specific. Russian artists are well trained in designing the themes on these dolls. In addition, you will find special decorated original nesting dolls such as relief motifs, famous paintings such as Gustav Klimt and other things. 
You will get a wide range of Russian nesting dolls at The Russian Treasures online store. The quality and work on all such dolls is awesome. You will love to give them to your loved ones and also can use them as a home decorative object. So pick the best Russian small size nesting dolls with us.