What souvenirs do foreigners buy in Russia? Nesting dolls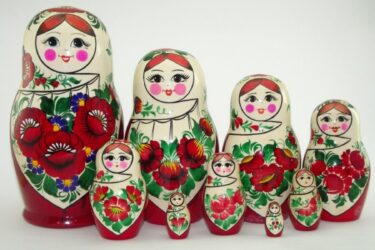 Everyone thinks that matryoshka appeared a long time ago. Few people know that in fact they appeared only at the beginning of the 20th century.
It all began when the wife of the patron Savva Mamontov brought from Japan the progenitor of the matryoshka – a furukum figurine (the image of a sage, an old man). There were other figures inside this sage. It is curious to note that legends differ. It is said that in Japan the furukuma was carved by a Russian master.
The artist Malyutin was the first to draw a Russian nesting doll as it appears to us now.
There are different types of nesting dolls. There are nesting dolls of both classical schools and individual works of authorship. Nesting dolls can be divided into classes, be dressed in warm or light clothes. And for some, a whole story can unfold inside! Russian fairy tales, plots of village life, city views and even paintings by famous artists. All this can be seen on the aprons of wonderful Russian nesting dolls.
In the matryoshka, everything has its own meaning, even the color. For example, the southern nesting doll is brighter than the representative of northern schools.
For example, a peasant matryoshka. A simple suit, an apron, a bright scarf. She's a southerner.
Fingerprints ("fingerprints"; pay attention to "Sudarushka") on nesting dolls also have their own history, because they say that when one artist finished painting this nesting doll, the children ran to the workshop and left behind them "fingers". Now, this is not done with your fingers, but with a piece of folded paper.
Pricing
One nesting doll may cost a little less than another, and a third one several times more than combined. It all depends on the shape, on the tree. For example, a pot-bellied nesting doll is more difficult to draw and cut than a classic one.
All nesting dolls are safe for children, which is another advantage. Initially, the matryoshka was conceived as a children's toy, because the first workshop was called "Children's creativity", where "matryoshka" was made for children.