UNIQUE COLLECTIONS OF SOUVENIR NESTING DOLLS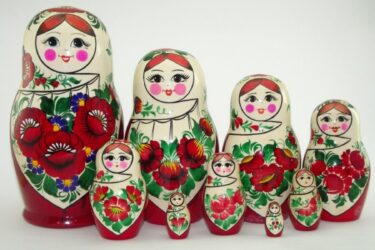 With over more than 1.2 million sets of dolls being manufactured every year, it appears that these nesting dolls have always been an integral part of the Russian culture. But the history of these nesting dolls called Matryoshka is only a little over 130 years in Russia. These dolls have risen to popularity as an antique art form after being represented as a Russian traditional art form in the World's Exhibition held in Paris in 1900. And since then, their popularity has only multiplied. Today, these dolls and Russia are interchangeably used as cultural synonyms. The matryoshka dolls have woven an intricate thread that has connected aristocratic tsars with the Soviet Union and, subsequently, the modern notion of awakened Russian nationhood. 
One should not fool oneself by believing that these dolls only offer a peasant girl or a woman figurine dressed in traditional Russian attire. With time these dolls have evolved both in structure and ideological make-up. They now represent varying images that range from fairy tales to customised pictures of the buyer's family members. These dolls make up the best gift option to be given to anybody. While it will make up a good play toy for small children, it can be a valuable piece of antique or a good luck symbol to several collectors around the globe. 
Today, enthusiastic buyers and collectors get a lot of diversity when buying a Russian nesting doll. These dolls come in varying varieties:- 
Matryoshka Dolls As Chess Pieces
Buying a set of matryoshka chess will provide one with unique and bright chess pieces representing traditional Russian art and culture. The pieces such as king, queen, bishop, rook and even pawns will interest the beginners more to learn and play the game. 
Nesting Dolls Dressed As Favorite Characters
This type of nesting doll particularly interests teenagers who are very fond of animated characters. These characters can be from movies, fairytales or novels. Characters like batman, superman, and spiderman normally are represented in these nested matryoshkas. 
Matryoshka Dolls As World Political Leaders
The political leaders, those who are popular and unpopular, find their due place in these nesting dolls. Political representation is a very popular theme to be drawn on these dolls. The popular Russian leaders and Presidents, such as Lenin, Stalin, Mikhail Gorbachev, Boris Yeltsin and Vladimir Putin, are beautifully drawn and painted over these dolls. Not only the Russian leaders but other important political leaders of the world also find a place in these dolls. 
Matryoshka Dolls As Celebrities
Figurines of popular celebrities in cinema, music, and sports usually find representation in these nesting dolls. Such is the craze of celebrities that the makers of these dolls firmly believe these dolls will be sold out as soon as they are introduced in the toy shops. 
Nesting Dolls As Animals and Birds
Almost all the animals and birds of the animal kingdom find a representation on these dolls ranging from endangered exotic species to domesticated pets. The figurines of dogs, cats, parrots and so on would be loved by the people on these nesting dolls as every piece would represent their life cycle. The dolls will represent a lifecycle from a little puppy to when it becomes a fully-grown cat or dog.  
Nesting Dolls on National and Cultural Themes
The dolls are widely popular when represented in a national or cultural theme. These dolls are bested suited to be given as gifts if you want the other person to get acquainted with your national traditions and cultures.