THE PAINTING OF MATRIOCHKAS – PATALE AND PYROGRAVURE
Matriochkas are nesting dolls invented in Russia at the end of the 19th era. These dolls are painted with a bright and lacquered look. In the first few years, Matriochkas used to be painted with gouache, then gradually the oil paint and Tempera took it over. Nowadays, artists usually use tons of different collateral of water and oil colors for painting and for further detailing, patale and pyrography are used specially for adding the detailing to specific figures, costumes, or ornaments.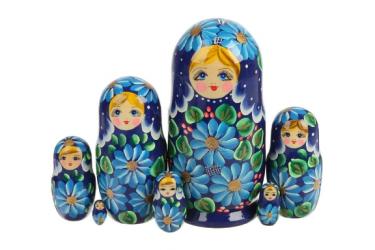 The painting of Matriochkas at the patale
The patale is a pictorial technique that resembles overlaying and comes in an affordable pricing range and provides greater flexibility during the application. Patale is formed using powders of small fine metal particles which are blended with binders to give it a smooth and shiny appearance. Patale makes the decoration and designing process of Matriochkas easy and handy especially for adding effects of halos. Halos are the sign of divine accession, commonly painted in gold leaf or using the layer of gold metal. So not to be surprised if you see golden crowns' effects in matryoshka painting. Patale is also used to enhance and improve the brightness of the specifications like hair, clothes, and other figures made on the painting.
Usage of pyrography
Pyrography is also widely used in multiple painting techniques. In this, patterns and designs are formed using the burning surface of the wood. It is mainly used to provide dark texture and share with the engraved part. Pyrography is also a great technique to add shadow and light effects using its different contrast shades. The majority of the decorations and textures used for creating landscapes or evocations in Matriochka are made with the help of pyrography. While emphasizing face in Matriochka, Pyrography comes to the rescue. In the beginning, contours are engraved and after that paint is applied over the different regions of the painting accordingly to provide depth and intensity to it. It's hard to believe but some Matriochkas are made only by pyrography. It gives an elegant minimalist look with a pleasant appearance.